I admit it my front porch is lame right now...I've got a pumpkin and a flag and a pink solo cup where my five year old is trying to grow a tree out of those little whirlygigs she peeled off the street. I'm not even kidding. That's the extent of the excitement on my front porch at the moment.
I'm on the hunt for a bench, but it's taking WAY longer than I'd like to find one at a thrift store. I tried the headboard bench thing, but that was just a giant fail because you need like 5 hands to do it and I only have two and the Mr. wasn't home...
Anyway, I'm living vicariously through my friend whose front porch is looking more fall-like everyday so, of course, I was honored when she asked me to re-cover a set of pillows for her bench.
Her only request was that they be burlap and be monogrammed. Immediately I knew I would make envelope style burlap pillow covers. But how to get the monogram on there... My initial idea was to create a stencil and then use craft paint to paint it on. But honestly stencils always make me nervous because the paint can bleed and then what?? I'd have to start all over and waste all that burlap?!
I swear I could see my printer shuttering as I caught her out of the corner of my eye when I had a lightbulb moment and realized she could do all the heavy lifting. I've printed on burlap for several other projects and it works beautifully (for me, if not for her). Before I would need Miss Printer though, I would need the covers so I returned to my burlap.
The pillows I was covering were 16 x 16 so I created a pattern from a piece of wrapping paper. It's
16 x 38 inches. I laid it out on my burlap, nice and straight, and cut out my burlap.
Then I folded over the short ends of the burlap and ironed it before sewing a straight stitch to create a hem on each end.
Now fold the two ends up and over each other toward the center. You want to make sure the square that you've just created is 16 inches. Just iron where the two folds are so you kind of box out the middle.
Now it's time for the monogram. Create your custom monogram in whatever graphic program you favor. I made mine in Powerpoint...well, because I just like to use Powerpoint for everything but actual presentations.
Then simply use the
freezer paper technique as I did here
to print out your monogram.
Once you have printed on the burlap, and before you peel off the paper, cut around the monogram leaving a little space of burlap outside the black circle.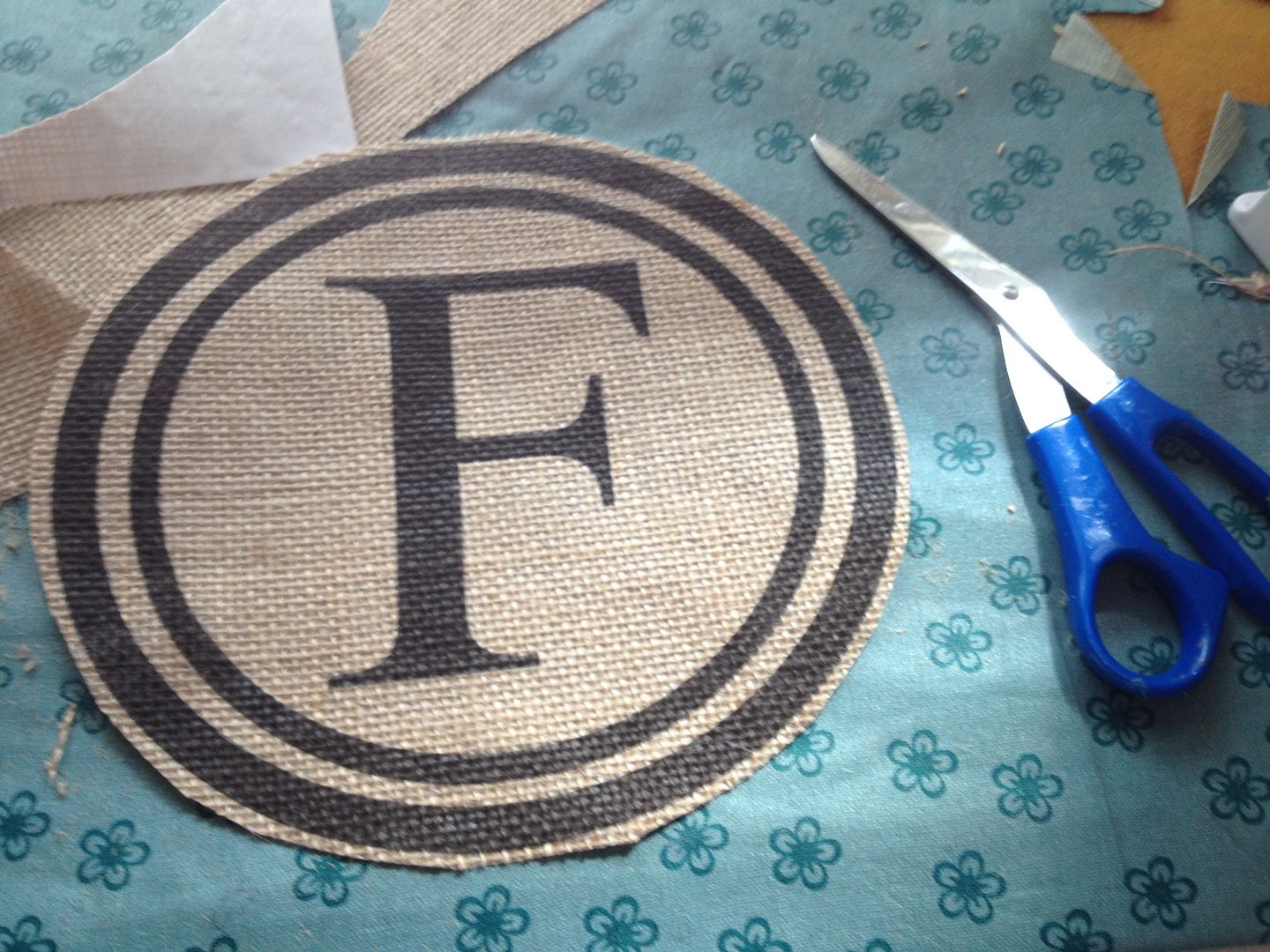 This space will be used so you can sew the monogram onto the burlap pillow cover without seeing the stitches on the black ink.
After you have cut out the monogram, then peel off the paper. Now, position the monogram in the center between the folds that you created. Mine is about 4 inches for each fold and four inches from each side. Pin it at 12 o'clock and 10 o'clock. Lift up the monogram, and spray some spray adhesive onto the back of the monogram.
Carefully press it back down so it adheres to the burlap pillow cover. Remove the pins and sew all the way around the monogram circle in that little space you created.
Lay your burlap piece out and with the monogram facing up, fold the two ends over it so they are overlapping each other. Sew up the edges and then flip the pillow cover right side out.
I sprayed the monogrammed area with acrylic sealer to protect it in case it gets a little wet. If you're using the pillows indoors you could skip that step.
I just love how these pillows came out. Of course, you can't really go wrong with burlap and a monogram, can you? I think they'd make the perfect gifts, too.
If you're loving the look, but not the work we can "two" it for you. The monogrammed burlap pillow covers are now in my
Etsy Shop, Cuteness Cubed.
Thanks for stopping by 2IY! If you like what you see, we'd love for you to pin it!